Showing Foresight
By car, on foot and by bicycle, Provident Security & Event Management is making Vancouver a safer place to live. Michael Jagger has built his company around the simple dictionary definitio of his company name: Provident, having or showing foresight. Unlike traditional alarm establishments, the Vancouver, B.C. based Provident Security & Event Management Corp., began as an event security company and, as Jagger points out, did not start with grand ambitions, but was allowed to grow slowly on its own.
Provident has a different business model because we are not relying on just one factor, notes Jagger when comparing Provident to other companies. Provident is very much based around providing a full suite of services.
All of our business is based on referral business word of mouth, he adds.
According to Jagger, the bulk of Providents business is taking over and expanding existing systems. This business model and working philosophy has resulted in a 3,000 percent increase in business over the past five years.
Jaggers career in the security industry began while studying criminology at SimonFraserUniversity in British Columbia. He gained experience by working as a Special Constable with the RCMP and performing concert security for a local guard company. But Jagger wanted more and instead of pursuing a career in law enforcement, he decided to develop his own company. His first gig was providing security for a high school dance and from this again, through word or mouth he expanded into private house parties and eventually the retail sector.
Utilizing this experience, Jagger entered into a business opportunity perfectly suited for his pro-active, progressive business philosophy and the city in which he lived.
Vancouver is an affluent and diverse city which, unfortunately, in 1997, suffered from a property crime level higher than the national level. It was ready for a different approach to private security. With this in mind, Jaggers attention was drawn to the Kerrisdale Business Improvement Association an upscale, four-block stretch of approximately 150 retail stores situated in the heart of Vancouvers west side. At the time, this area of the city was suffering 16 to 20 burglaries per month, even though it had spent a lot of money on alarm systems and target hardening.
Jagger concluded that alarms were not enough, and with a quantum leap in faith by the Kerrisdale BIA, Provident was hired to start an unarmed bicycle patrol. In concert with the Police, Provident quickly established itself and, in the first month, the Kerrisdale section of Vancouver did not report a single break and enter. Even more impressive, it has only experienced 20 break-ins since 1997.
From this, Provident began receiving additional patrol business, with guards in cars and on bicycles. As the business grew, Provident began turning its attention to commercial clients and launched a five-minute response time policy to attract clients. As it had no control over the calls from monitoring stations, it remained small and independent in order to fulfill this daunting promise.
Eventually, Jagger wanted to expand but felt that in order to maintain his five minute promise, it was not smart to rely on another agency, which he could not control. Instead, Jagger felt that the future for Provident was taking its suite of services to where it was responsible for security 24 hours a day. Provident accomplished this through the purchase of Vytaltek Security, a Vancouver-based alarm company it had worked with in the past. Almost instantly, Provident became a full-service security company; one that is totally independent and able to offer the additional support of an alarm system to its clients.
Provident has married its guard and alarm divisions by having two signals sent when a clients alarm is triggered one to the guard directly and one to the monitoring station. Through the use of bright yellow marked SUVs, outfitted with GPS, PalmPilots and radios, Provident staff are able to respond within that five minute promise.
The industry, in general, assumes that all alarms are false until proven otherwise, says Jagger. By the time it is proven otherwise, it doesnt matter anymore. And thats what these guys who are breaking in regularly have figured out. Everything is built around the five minute guarantee. Absolutely everything that gets in the way we have tried to get rid of.
We really try to train [employees] for a customer service focus, he adds, noting that clients only need to turn the system on and off and Provident does the rest. We are trying to get across to both our customers and our staff that we will do anything whatever the issue is, we will do anything to look after our clients.
Reflecting Providents customer service philosophy, the company offers clients assistance in a variety of ways, from picking up mail to watering plants and checking to ensure the iron was turned off when someone leaves for vacation. Customers know that they can call us and trust us, says Rebecca Bligh, Providents service manager. Our focus is moving into developing a fantastic service department, even better than what we have now.
To achieve this, Provident stresses education. Guards and sales staff are trained in the installation of equipment to ensure that they can perform their duties with a high level of expertise, which allows the guards to interact with the client and alarm technician when minor adjustments to a customers alarm are required. This, of course, not only provides the client direct access to a person for service, but ensures that problems are quickly addressed in a skilled manner.
Bligh believes this allows staff to make quick decisions in order to satisfy the client, which is augmented by the fact that Provident primarily uses products manufactured by two main suppliers: ADEMCO and Hirsch.
We started with a guard company, she adds, and we are hearing more and more that alarm companies are realizing that guard response is the key.
One of the things that makes us unusual is that there are no contractors, adds Jagger. It is all one company. We have made a real effort to empower the guys that are responding. They work hand in hand with the on-call technicians.
From providing personal security for Britney Spears and Elton John to the five minute guarantee of alarm response, Provident is not afraid to tackle a variety of problems within the security field. But maybe even more importantly, it has shown the foresight to utilize a variety of methods to bring total satisfaction to customers via an eclectic mixture of guards, alarms, mobility and technology.
Installation Services
Provident has assembled a first class team of professional alarm technicians who install the latest alarm, CCTV and access control systems.
Read More about how installation works and what we can do for you.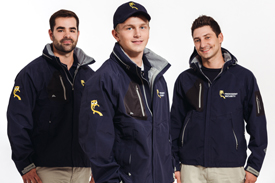 Monitoring & Response Services
The most important reason for installing an alarm system is to generate an immediate response.
Read more on the intrusion detection monitoring services we provide.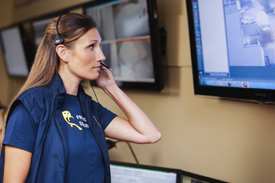 Book An Appointment Today
Real security takes more than just an alarm. Our security professionals will show you how to five-minute proof your home or business so that you get the most out of your security investment.
Book Appointment