Security Technicians In Demand
One of the security technicians working at Michael Jagger's company drives to Vancouver from Abbotsford every day to work.
His services are in such demand that Jagger is considering paying the difference so his employee can move into a Vancouver apartment and won't be tempted to take a job closer to home.
"We cannot find near enough technicians," said Jagger, president of Provident Security. "We have been going through every conceivable way to find qualified technicians.
"We have even put a price on referrals if people find us qualified people."
Ironically, Jagger is finding no shortage of university grads who will work for $12 and $13 an hour in lesser-skilled guarding positions, while the technicians jobs that command $25 and more an hour including benefits, are going unfilled.
"All the alarm companies I talk to are saying the same thing: They are looking for people who know what they are doing," said Jagger, who is on the advisory board of the British Columbia Institute of Technology's security systems technician program.
"Right now I could put four more people to work pretty much full time."
Tim Neill, an owner of Atlas Alarms Ltd. and also a member of BCIT's advisory board for the security systems program, said demand for qualified technicians is growing.
"They have always been in demand, but today they are in demand more than ever," he said. "It is a growing industry, a growing city, a growing Lower Mainland and there is more demand for security than ever and we are looking for more and more technical trades."
Neill said part of the problem stems from the reluctance of young people to enter trades.
"It is no different from boilermakers, electricians — there are not as many people going into trades any more," he said.
But Neill said enrollment in BCIT's security systems technician program is improving and seven of the eight technicians on his staff are BCIT grads.
"Students do a full practicum so they can get hands-on experience.
"I would say there are more grads than there are jobs."
BCIT offers a certificate of technical studies for security systems technicians. Michael Wanstall, chief instructor for that program and BCIT's electrical pre-apprentice program, said the program doesn't have a high profile.
"It's a well-kept secret, this program," he said. "We started this program at Vancouver Vocational Institute in the mid-1980s and at that time there was no program like it as far as we knew anywhere in North America."
"What it was triggered by was a lot of people doing installations out of the back of their cars, the quality was low and false alarms were driving people nuts.
"VCC was approached to see if we could put an entry level course together."
The program was transferred to BCIT in 1989 and Wanstall said since then changes in technology have made the job of security systems technicians more complex and demanding.
"It has changed a lot from when we started in the mid '80s," said Wanstall, who was department head at VCC when the course was first launched there.
"Back then there was a panel on the wall with sensors, key lock and the whole thing. "The technology just explodes in this industry. We now have to include closed-circuit TV, we do a certain amount of access control and we changed the name of the program to security systems technician."
BCIT offers three intakes a year for the six-month program, with each class having 16 students. Wanstall said classes are always filled and applicants usually have to wait through one intake for a place. "It is building up," he said.
An apprenticeship program covers security systems technicians in B.C., unlike most other provinces, which don't have journeyman certification for the trade. Once students graduate from the BCIT program, they work for another 18 months and then can write the trades qualifying exam.
Jean-Francois Champagne, director of education with the Canadian Security Association (CANASA) said B.C. was one of the first provinces to include some sort of regulation in the industry.
"The large majority of the provinces remain unregulated," said Champagne whose organization represents about 1,000 members across Canada. "There is definitely a growing need for education and training. B.C. is great, they are definitely pioneers."
CANASA recently announced it reached an agreement to license the level-one and level-two alarm technician course to Sheridan College in Brampton, Ont., with the evening courses to be offered as components of the college's school of continuing studies program for alarm professionals.
At one time at BCIT it was a program students opted for if they couldn't get into another trade. Now there is a waiting list and the grads that come out of the program every year are snapped up.
"It is a good industry for people to get into if they are interested in the work," said Jagger. "We are doing really sophisticated work, access control, a lot of camera work, a lot of integrated work.
"It is a way different skill set now. The whole industry is getting more professional and it requires a lot more from technicians. It is a huge opportunity."
Jagger said as business owners and residents are taking more responsibility for security, demand for such services is growing and outpacing the number of grads qualified to work in the field.
"We have so much opportunity on the sales side we can't take advantage of because of the delays in getting qualified people," he said. "We have very capable people here but they can only work so many hours in a day. Every month is busier than the one before."
Jagger said selling security services is like selling furnaces or a boiler — by the time people know they need it, "it's a case of 'I need it yesterday.'"
There are stacks of applications for customer service staff, guards and drivers but installation applications are thin. "We have hired a few customer service people, we have two more positions we will be filling almost immediately and we have dozens and dozens of applications. We can't get anywhere near the same on the installation side because there aren't enough guys who are doing it."
Installation Services
Provident has assembled a first class team of professional alarm technicians who install the latest alarm, CCTV and access control systems.
Read More about how installation works and what we can do for you.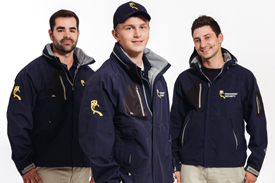 Monitoring & Response Services
The most important reason for installing an alarm system is to generate an immediate response.
Read more on the intrusion detection monitoring services we provide.
Book An Appointment Today
Real security takes more than just an alarm. Our security professionals will show you how to five-minute proof your home or business so that you get the most out of your security investment.
Book Appointment