SAMMY: Provident Security Corp.
When Mike Jagger founder his company 12 years ago, he knew he wanted to think of the customer first. Education and commitment were key, so he focused his business model around a quick response time for his customers. "What we did was guarantee a 5-minute response time if an alarm goes off. We guarantee we will be at the door within 5 minutes, 24-hours a day," Jagger says.

A lot of Provident Security's marketing revolves around educating the customer, and winning a SAMMY for best Web site design proved just that. The Web site, which went through a complete redesign in 2007, features a video library full of high definition videos, and a live chat tool for customers to reach a Provident representative 24/7. However, the section that receives the most traffic is the company's blog, which has been active for more that 2½ years.

"What customers have commented on is that we sell a lot of technology, but rather than speaking directly about our technology, we have clients talk about how our services work and how our services have impacted them," says Jagger.

The company has never used an outside PR agency, according to Jagger. However, because of its activity within the community and its strong customer relations, Provident's message travels mostly by word of mouth.

The company's three-story inflatable slide has also been instrumental in marketing its name in the local community. The slide, which is donated for use at nonprofit events in Vancouver, British Columbia, not only provides entertainment, but is also is impossible to miss. Jagger's team knows how to work hard and play hard, but at the end of the day, it's customer service that counts.

Published June 1, 2008 · Security Sales & Integration
Installation Services
Provident has assembled a first class team of professional alarm technicians who install the latest alarm, CCTV and access control systems.
Read More about how installation works and what we can do for you.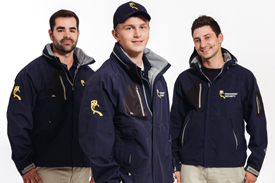 Monitoring & Response Services
The most important reason for installing an alarm system is to generate an immediate response.
Read more on the intrusion detection monitoring services we provide.
Book An Appointment Today
Real security takes more than just an alarm. Our security professionals will show you how to five-minute proof your home or business so that you get the most out of your security investment.
Book Appointment