Best companies to work for in B.C.
It's no secret that B.C. is in the midst of a labour shortage, with skilled workers in demand across virtually every sector of the province. Now, more than ever, keeping staff happy is a crucial part of doing business. But what, exactly, does that entail?

For our fifth Watson Wyatt survey of B.C.'s best companies to work for, we wanted more than just cold hard facts and figures. We wanted to know what it actually feels like to work at these places. It's all very well to talk about profit-sharing and annual company retreats, but a job is a daily commitment. How do you keep the love flowing nine-to-five, 24-seven?

To find the answer, BCBusiness did more than interview CEOs and tour company headquarters. Our writers got their hands dirty: they schlepped bowls of steaming pasta, assembled bikes, hawked skinny jeans and even tried their hand at selling cars (albeit unsuccessfully). Our embedded reporters sat in on company meetings and prodded their workmates with questions, all the while taking in the energy and mood of their surroundings.

Their observations tell us far more about what keeps an organization's staff loyal, motivated and enthusiastic on a dreary Monday morning than any carefully scheduled media visit ever could. So what's the secret to running a happy ship? Read on…

Best in show

To find out who treats their employees best, BCBusiness worked with Watson Wyatt Worldwide, a global HR consulting firm, which evaluated employers on a variety of levels.

It all began in March. To participate, companies registered and had their senior execs fill in a confidential online survey detailing their people practices. Any organization with at least 100 employees was eligible for inclusion – private, public, Crown, university, municipality, branch plant, hospital, etc. Once the company was registered, a random sample of 30 per cent of an employer's staff completed an anonymous survey on what it's really like to work there. (And for those bosses who think they can beat the system by ordering a bunch of micro-managed staffers to submit bogus responses? We're onto you.)

Over the summer, once surveys were completed, Watson Wyatt carefully went through the data and assessed the companies, placing greater emphasis on what employees had to say. To come up with the list of finalists, an analytical tool known as the "four-pillar model of productive engagement" was used. It is based on the concept that employees should know what to do, know how to do it, want to do it, and have the right tools to do it.

1. Great Little Box Co.
2. 1-800-GOT-JUNK
3. Odlum Brown
4. WCG International
5. Aritzia
6. OpenRoad Auto Group
7. Salmon Arm Savings and Credit Union
8. Flight Centre North America
9. Marriott Vancouver Pinnacle
10. Deloitte & Touche
11. Vancouver Insight Electronics Corp.
12. Bull, Houser & Tupper
13. Edward Jones Investments
14. Cintas Canada
15. Coastal Pacific Xpress Corp.
16. Joe Fortes Seafood & Chophouse
17. The Personnel Department
18. Teldon International
19. Concert Properties
20. Norco Products
21. Delta Vancouver Airport
22. The Old Spaghetti Factory
23. Cactus Club Cafe
24. Provident Security & Event Management
25. International Language Schools of Canada

Published December 1, 2006 · BCBusiness Magazine
Installation Services
Provident has assembled a first class team of professional alarm technicians who install the latest alarm, CCTV and access control systems.
Read More about how installation works and what we can do for you.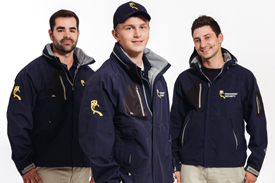 Monitoring & Response Services
The most important reason for installing an alarm system is to generate an immediate response.
Read more on the intrusion detection monitoring services we provide.
Book An Appointment Today
Real security takes more than just an alarm. Our security professionals will show you how to five-minute proof your home or business so that you get the most out of your security investment.
Book Appointment