After the success of an installed NightOwl Remote Video System at an Abbotsford construction site a few weeks ago, one of the neighbouring construction sites that had been relying on a Security Guard to patrol their site had us install NightOwl for them as well.
It took less than a week for the system to pay off. On July 21st, the NightOwl system send us video alarms showing three suspects trying to gain access to the construction site through the front gate. Our Kerrisdale Operations Centre team immediately dispatched the Abbotsford Police, who were able to respond and apprehend the suspects before anything was stolen or damaged from the site.
Click below to see what the video alarms looked like…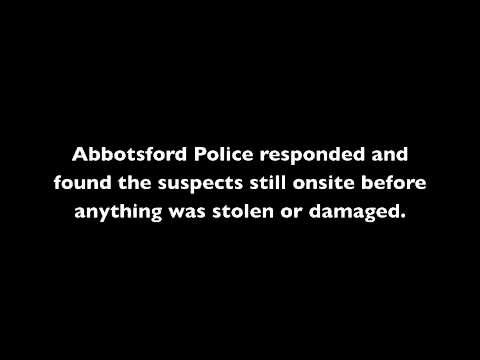 It's important to note that the resolution of the NightOwl video alarms is intentionally low. That's because the system is completely wireless and is optimized to be able to detect unauthorized activity and send a video clip to us in the shortest possible timeframe. We only need the video to be clear enough to confirm that a human is in an area that they are not supposed to be so that we can dispatch the Police to a verified crime in progress.
Over the past few months, we've installed NightOwl systems throughout the Lower Mainland and Fraser Valley. NightOwl does not require electricity, telephone lines, an internet connection or any other infrastructure to work. It is a completely self-contained system that we can set-up and monitor anywhere.
We rent NightOwl on a week-to-week basis, making it an incredibly easy way to maximize security for a construction site or any place requiring temporary security.
Do you have a site where NightOwl could help? Let us know… we'd be happy to set-up a demo and show you how simple it is to get started.